Top 6 Hidden features MIUI 9
Top 6 Hidden features MIUI 9
With the new updates on MIUI 9, we get lots of features that are newly added and many bugs are also fixed. In this article, we'll see the '6 Best Hidden features of MIUI 9'. So, Without wasting any time let's talk about the hidden feature that is available on MIUI 9 one by one.
Now we have many options to take a screenshot on our smartphone with MIUI 9 update, and the best way is sliding 3 fingers down on the screen. Before doing so we need to choose the option from settings > additional settings > button and gestures shortcuts > take a screenshot and then select 'slide 3 fingers down' option, That's it. Now, whenever you slide your 3 fingers down on the screen it will take a screenshot.
2. Switching different apps
This is one of the best features added to MIUI 9. Double tapping the menu button, will switch between different apps from the recent menu that we are currently using.
3. Split screen
We have the split-screen option on MIUI 9, and it's much easier to do so. Click on the menu button then click on the split-screen. Now just drag and drop the app on the split-screen area and use two apps at a time.
4. Home screen management
Now you can add groups, widgets,  translation effect, change the wallpaper and even lock home screen layout. Place 2 fingers on the screen and pinch in, It'll bring the home screen management and then you can manage the screen layout.
5. Reply from Notification Toggle
Now you can check out the app notifications and messages on the Notification Toggle and even you can reply to the message from there. Just click the small down arrow when you get a notification and then click 'reply to' button then reply from the screen without opening the apps.
6. Screen Recorder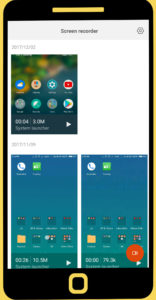 We have the inbuilt screen recorder on MIUI 9. We don't have to download any other App for screen record, we can just use the inbuilt screen recorder.
But it has some cons Like,
– During Screen Recording we don't have the pause option
– The touch gestures don't have any color options.
I hope if Xiaomi fixes this in the coming updates.
Above are the 'Top 6 Hidden features MIUI 9'. We can always hope from Xiaomi that it will add some more new features on the upcoming updates. So till then keep in touch with My Tech Manual & You'll be updated with the new features added.